If you weren't able to participate in our last Ecommerce Day Forum, fear not! Not only can you read a detailed wrap-up post on our blog, we're giving you full access to all of the presentations, which are packed with ecommerce tips, advice, and stories, examples of strategies and successes, pitfalls to avoid, and so much more.
The day centered on discovering which online channels will allow you to most easily connect with your target audience, and best practices to follow in order to grow these channels and really take advantage of everything they have to offer.
The panel of speakers included some of the top retail brands in Pennsylvania, including UPS, Zippo Manufacturing, Listrak, eBay Enterprise, and more. Not only did they share their experiences using digital channels to sell their products and services, they offered valuable advice and information to the more than 100 business professionals in attendance.
Morning Presentations: Ecommerce Speakers & Panel
Don Mueser, Sales Manager at UPS, kicked off the event with a discussion about the ruthlessly efficient "flex shopper." During his presentation, "UPS & CommScore Study: Pulse of the Online Shopper 2015," Don introduced attendees to these channel and device-switchers, and discussed their impact on retailers' ecommerce strategies. He covered the shopping experience, as well as how mobile and social are going to affect the future of retail.
Wei-Shin-Lai, founder & CEO of AcousticSheep, shared her company's unusual story of success. She explained to the audience that they don't use budgets, don't advertise and don't look for employees with business degrees. Rather, they focus on creating a top-notch product, sending out samples to companies and individuals with large audiences, having a solid web presence (especially when peaks in demand from media attention occur), and using data from Google Analytics to understand their market.
Claudine Thiem, owner of Claudine's Consignment, discussed the need for even a small local retailer like herself to create and manage an affordable and efficient online store. After harnessing the power of Facebook and Craigslist to expand her customer base, Claudine found an inexpensive and easy way to drive more traffic to her website, and move inventory faster – even if it hasn't yet hit her showroom floor. She emphasized that customers have come to expect an online presence and the ability to ship products, whether they're buying from a small brick and mortar or a big box retailer.
Dan Pastore, president of FishUSA.com, covered selling through marketplaces. While online marketplaces like Amazon and Ebay can be attractive to many companies – especially companies without an ecommerce website – Dan explains that the lack of control and access to customer data can be a huge disadvantage, and may negate the value that the marketplace brings to a company. In his presentation, "Moving Beyond Marketplaces to Control Your Future," Dan shares why companies that have achieved significant growth over time may want to consider leaving their marketplaces as part of a strategy for long-term success.
Kathy Jones, retail marketing manager at Zippo Manufacturing, helped lead the company away from fragmented branding and marketing strategies and worked to create a more integrated approach that reinforced its message and helped to build a better online presence. During her presentation on Zippo's "Globalization Journey," Kathy shared the steps the company took to begin its global ecommerce initiative, how they learned and evolved based on past experiences, and how they plan ahead for new developments in web and ecommerce.
Mitch Silver, owner of YoYoSam.com, discussed "Growing a business in the fast changing ecommerce environment." The company started as a typical online reseller, but expanded its customer base and sales by selling through various marketplaces, developing its own brands, and offering products at wholesale prices. In addition to online marketplaces, YoYoSam sells through brick and mortar retailers, contests and industry events. While each channel has its own pros and cons, Mitch emphasized the importance of using and playing in the space his customers play in in order to connect with them. (He also demonstrated some pretty awesome yoyo skills!)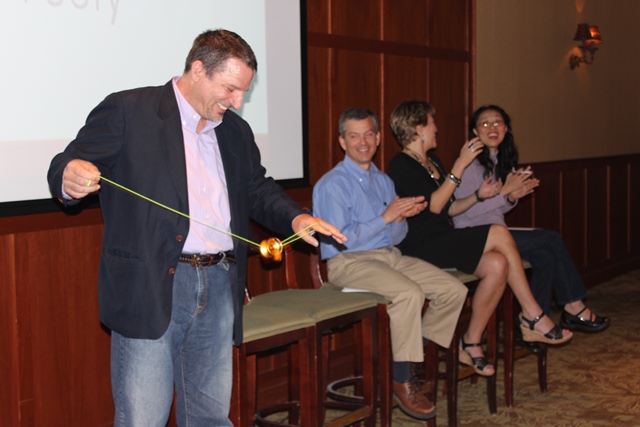 Ecommerce Day Service Provider Panel
John Persinger, attorney with MacDonald Illig Jones & Britton, covered a hot topic at Ecommerce Day. His presentation, "Cyber Security: Proactive and Reactive Measures," discussed the fact that 54% of the security breaches that occurred in 2013 targeted e-commerce sites. The average cost of handling a breach that affected less than 100,000 records is estimated to be $5.85 million. John stressed having a plan in place to get through a security breach and tips on how to mitigate it successfully.
Mike Bukowski, SEO/SEM strategist at Tungsten Creative Group broke down Google's newest algorithm update during his presentation "Mobile SEO: This Time Google Means Business." As mobile traffic continues to grow, the lack of mobile-optimized content is making it more difficult for web users to find the products, services and information they're searching for. He explained what the update means for businesses that lack a mobile-friendly websites, and ways to improve it so that it's not hit with a drop in organic search engine rankings.
Stay tuned for the afternoon video presentations coming in Part 2!