Nearly 80 ecommerce practitioners, experts, and attendees packed the Erie Technology Incubator last week for the Regional Ecommerce Day Forum. The event, which was first held last fall and received high marks from everyone who attended, is a gathering of business professionals who have a common goal: Implement, learn or improve ecommerce activities in order to reach more customers and increase sales.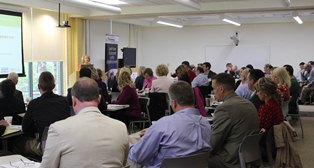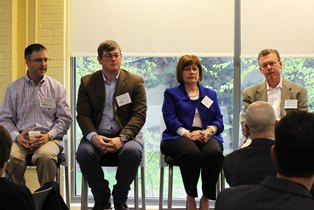 Attendees heard brief but informative presentations from B2B and B2C ecommerce practitioners in a wide range of industries who successfully market and sell products and services online. They offered firsthand experiences and knowledge, advice, and actionable tips that attendees could use to help their own businesses.
After all practitioner presentations concluded, speakers sat on a panel and took questions, which allowed attendees to ask pressing questions and pick their brains. Topics covered included B2B ecommerce, fraud, small- and home-based business ecommerce, and how to handle growth and expansion. Ecommerce practitioners included:
B2B Ecommerce Practitioners
Thomas Braeger, manager at Lake Erie Systems, presented "Fraud is Everywhere" and explained how companies can protect their ecommerce websites against various types of fraud and charge backs, and red flags to watch out for.
Deborah Ross, director of marketing at Signal-Tech, discussed "Growing B2B Businesses Through the Online Channel" and how a manufacturer selling niche products can still use ecommerce to grow sales and reach new customers.
Ed Wieczorek, web developer at USNetting, talked about "The Road to Bringing US Netting Back on Course" and how he helped revamp and reorganize the company's website, as well as created a better user experience.
Andrew Rademacher, owner of Lems Shoes, presented "How We Grew 300% with Digital Marketing" and explained to attendees what types of growing pains his company has experienced as sales increase, and what he did to ensure success.
Patrick Fitzsimmons, owner of Luggagedesigners.com explained how he went from "Ecommerce to Brick and Mortar" and discovered there was a demand from customers to see, feel, touch and test out his luggage before purchasing.
Lisa Anderson-Salvia, owner of Winking Lizard Pottery, presented "From the Kiln to Texas in a Week: A Small Business Solution to Selling Online" and discussed how even a small, home-based business can use ecommerce to reach customers across the country.
Professional Services Experts – Business & Operations
Don Mueser, area sales manager for UPS discussed ecommerce and how it relates to shipping & logistics, fulfillment, and inventory management. His presentation, "UPS Pulse of the Online Shopper - A Study of the Online Customer Experience," discussed the results of a recent study conducted in partnership with comScore.
John Persinger, at attorney with MacDonald Illig and a member of the firm's new "Emerging Technologies Practice Group" discussed privacy policies, terms and conditions, and more during "The Four Legal Issues Every Ecommerce Operator Should be Thinking About"
Linda Richardson, owner of All Clear Translations, presented "Five Key Points to Consider When Adding Languages to Your Ecommerce Site" and explained how some companies are missing out on sales from customers in other countries because they don't have additional languages available on their ecommerce sites.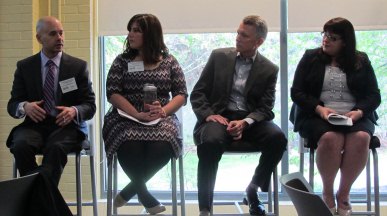 Jeff Biletnikoff, digital media manager at YourErie.com, discussed retargeting as a marketing strategy to increase reach during his presentation "How retargeting & remarketing using unstructured data can help any-sized company generate more leads and increase visibility."
Mike Smiley, vice president of PAPA Advertising, covered the importance of content marketing and how it can be used to drive online sales during his presentation, "Content, Connectivity & Convergence: A Shared Strategy to Propel Business Growth."
Katie Fish, a digital marketing specialist with the BFLC, presented "Google PLAs and the Switch to Google Shopping Campaigns" and explained how PLAs work, what benefits they offer to companies selling products and services online, and how the update Google Shopping Campaigns will change the structure of PLAs.
Joelyn Bush, a social media consultant with reCAP Mason Jars, explained how social media platforms like Pinterest are building new features and functions that better allow companies to market and sell products and services direct during her presentation "Selling Through Pinterest"