If you missed 2014 Regional Ecommerce Day Forum last month, you missed out on tons of ecommerce tips, stories, and resources, as well as the chance to meet and network with nearly 80 ecommerce practitioners, experts, and attendees. Not to worry! We have speaker presentations available for download and video clips that highlight some great first-hand ecommerce experiences that can help you optimize the online channel and sell your products and services online. (We also wrote a blog post summarizing the event - be sure to check it out here.)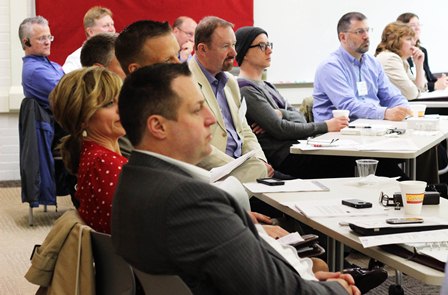 Presentations Keynotes
Morning Session/Part I
The morning session included presentations from ecommerce practitioners who successfully sell their products and services online to consumers and to other businesses. They shared the various paths they chose to sell online, and ways they find, attract, and convert customers. Download the ecommerce practitioner presentations
Afternoon Session/Part II
The afternoon session featured presentations from ecommerce experts who assist and advise companies interested in ecommerce. They understand it inside and out, and know which tools, resources, marketing strategies, and even legal considerations companies must be aware of when selling products and services online. Download the ecommerce expert presentations
Attendees were very interested in Tom Braeger's presentation "Fraud is Everywhere." It's a growing concern for ecommerce businesses, and Tom shared his own company's experience with fraud and how it's proactive in catching potential thieves before they're able to complete an order. In this video clip he discusses spoof domains.
Ed Wieczorek, web developer at USNetting, presented "The Road to Bringing US Netting Back on Course" and talked about how he helped revamp, reorganize and improve the company's ecommerce site. In this video clip, he discusses how embracing change is the only way to make improvements.
Andrew Rademacher, owner of Lems Shoes, presented "How We Grew 300% with Digital Marketing" and explained what types of growing pains his company has experienced as its sales have increased. This clip shares the unique story of how he started designing and selling his minimalist line of footwear.
Patrick Fitzsimmons, owner of Luggagedesigners.com explained how he went from "Ecommerce to Brick and Mortar" and discovered there was a demand from customers to see, feel, touch and test out his luggage before purchasing. In thisvideo clip, he talks about how he adapted his business to meet his customers' needs.
Deb Ross, director of marketing at Signal-Tech presented "B2B Ecommerce" shared her experience selling a B2B niche product online, and in this video clip, talks about how all channels, including ecommerce, must work together to support the its business goals and drive sales.
Don Mueser, area sales manager for UPS discussed ecommerce and how it relates to shipping & logistics, fulfillment, and inventory management. His presentation, "UPS Pulse of the Online Shopper - A Study of the Online Customer Experience," discussed the results of a recent study conducted in partnership with comScore.
Katie Fish, a digital marketing specialist with the eMLC, presented "Google PLAs and the Switch to Google Shopping Campaigns" and explained how PLAs work, what benefits they offer to companies selling products and services online, and in this video clip, discusses how the update Google Shopping Campaigns will change the structure of PLAs.
Attendees gave this event high marks. We asked Matt Cramer, web developer at Signal-Tech, to share with us three things he learned from the 2014 Ecommerce Day Forum and he explained what he thought the top takeaways were in this video clip.
Stay updated and get info on upcoming digital marketing training sessions, workshops, special events, as well as special promotions and discounts. Sign up for our emails.